On a clear day, the snow-covered peak of Mount Damavand can be seen in the distance from the Iranian capital Tehran. This snow covered peak is as famous and well loved by the people of Iran as is Fujiyama by the Japanese. It is immediately obvious from its steep-sided conical shape that this is not simply a tall mountain. Mount Damavand is a volcano.
Where is Mount Damavand?
It is located around 60 km north-east of the city in the Eastern side of the Lar National Park where it towers above the surrounding land.
Mount Damavand Summit and Elevation
Everything about Mount Damavand fits in perfectly with most people's idea of a typical volcano. It has an elevation of 5,670 m and its summit shows a small concave crater. It is the highest point in the middle east and the highest volcano in Asia.
How Was Mount Damavand Formed?
Mount Damavand is technically described as being a strato-volcano meaning that it is built up from layers of volcanic rock. It stands in an area which has previously been volcanically active and it rises from the southern rim of a 9 km wide caldera. A caldera is a large crater formed when a volcano collapses into itself.
Is Mount Damavand an Active Volcano?
In terms of volcanology, there is no such thing as an inactive volcano but some erupt more frequently than others. There are certainly no historical records of Damavand erupting and scientific evidence shows that its last eruption occurred in approximately 5300 BC. There could be a temptation to describe it as a dormant volcano but the summit of Mount Damavand does emit spurts of hot sulphurous gases known as fumaroles and at lower levels, hot springs emerge indicating volcanic activity fairly close to the surface. Rather than being dormant, Damavand could perhaps be better described as snoozing.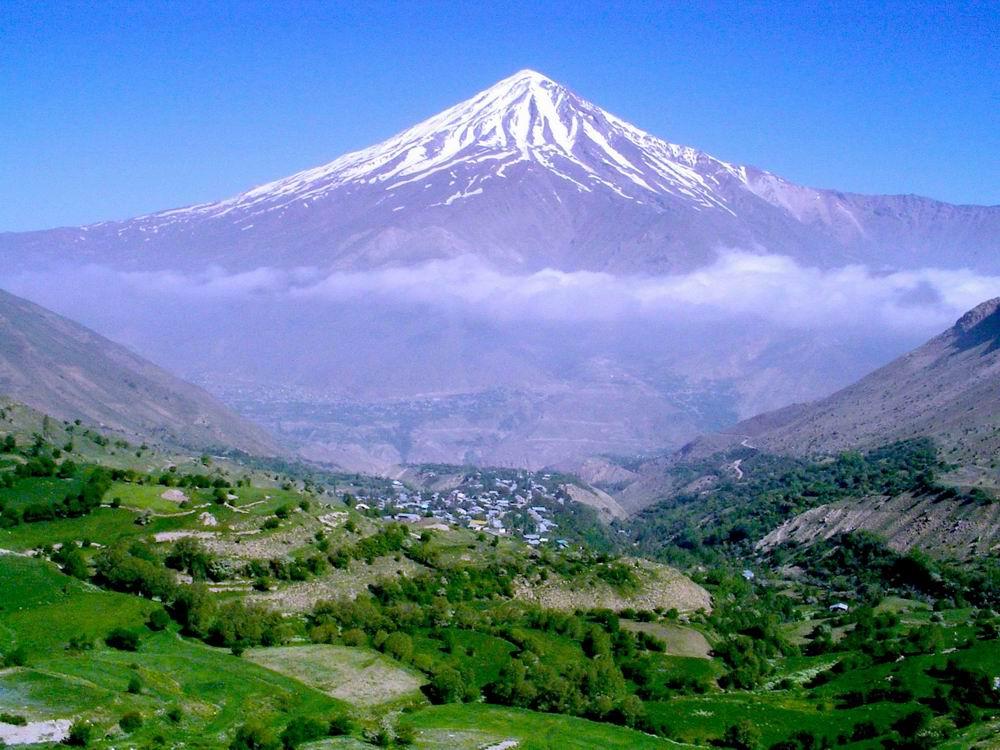 Mount Damavand Myths and Legends
Mount Damavand features widely as a symbol of the Iranian nation and it even appears on some of the country's currency. It is said to be the place from which a magic arrow was fired to mark the country's boundary and, in Persian mythology, it is said to house a three headed dragon which will remain there until the end of the world.
Visiting Mount Damavand
Iran does still not feature on the major tourist map but this very significant mountain generates a great deal of interest from the climbing community. In particular, the challenge of climbing each continent's highest volcano ensures that there is no shortage of potential climbers looking to conquer this peak.
Climbing Mount Damavand
For foreign climbers wishing to make this ascent, the best way is to make arrangements through one of the tour operators specialising in mountaineering. They can make all of the necessary arrangements including the permissions to climb the mountain. By climbing standards, this climb requires no special skills or abilities other than a good level of fitness and some altitude acclimatisation. There are several different routes to the summit but the southern face is the most popular and probably the easiest. Porters and possibly pack-mules are available to help with load-lugging and the southern route currently features two huts at 3000 m and 4150 m. Climbers who have made the ascent have reported that the last 300 m are the most difficult and sulphurous gasses often cannot be avoided but the view from the summit is simply breathtaking. Mount Damavand is certainly one of the world's most beautiful volcanoes.