The Swiss National Park is unequalled in terms of the alpine scenery it offers across its 50mi (80km) of hiking paths and nature trails. Founded in 1914, Swiss National Park was one of the first national parks in Europe, and to this day remains Switzerland's only national park. Understandably, the major activities within the park are hiking and observing wildlife. Thanks to the strict conservation rules in place, visitors are prohibited from veering off the marked footpaths, allowing a plethora of wildlife to be seen in an unspoiled environment.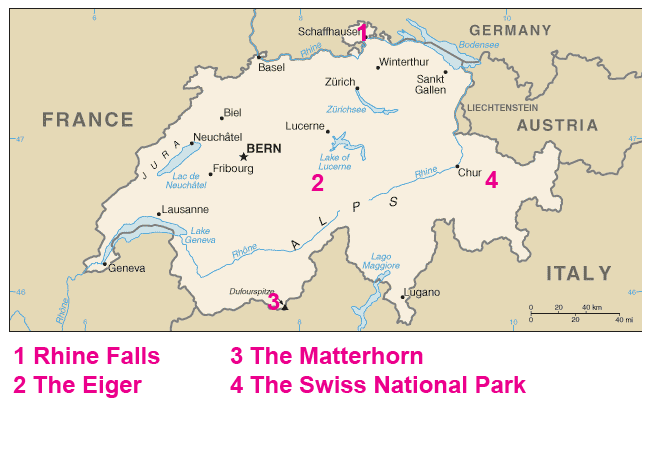 Interesting facts about Swiss National Park
Covering a total of 66.5 square miles (172.3 sq. km), the park comprises 0.42% of Switzerland.
Situated in the Romansh-speaking region of Canyon Grabunden in the far east of Switzerland, the official name of the park is 'Parc Naziunal Svizzer'.
The Alps are relatively young as a mountain range and are continually growing as a result of the African and European tectonic plates pushing against one another.
The parks elevation ranges from 4593 to 10,410 ft. (1400-3173m) above sea level.
The many trails in the park are categorised according to the equipment and skills required to follow them. Three categories are in place; yellow (regular trail), red (mountain trail) and blue (alpine trail). Yellow trails require no specialist skills or equipment. Red trails are recommended for individuals in good shape with hiking boots as the trails may include steep and/or slippery trails. Finally, blue trails are technical hikes which may involve climbing/glacier traversal, and therefore require alpine equipment.
Park Rules
For conservation purposes, a number of park rules have been established, with significant fines in place for those found to be breaking them.
Visitors are not permitted to leave the marked footpaths.
Visitors are not permitted to remove any flora/wood from the park.
Visitors must not hunt, disturb or harm any of the animals/fish residing in the park.
Fires/stoves are not permitted.
Visitors must not bring pets into the park, including dogs. Dog owners have the option to leave their dogs at a kennel in Zernez.
Overnight camping/parking is not permitted in the park, unless staying in the Chamanna Cluozza.
Littering is forbidden – visitors must take trash out of the park themselves.
How to get to Swiss National Park
The easiest and often fastest way to get to the Swiss National Park is by taking a train from Zurich to Zernez (2.5 hours one way), and then taking a postal bus service into the park. Timetables can be found here. When road and traffic conditions are perfect, driving takes a similar length of time (2.5 hours), though delays/traffic jams are commonplace, particularly during the winter months.
A single road runs throughout the national park, known as 'Pass dal Fuorn'. Whilst this road is open for public use, public transport in the form of the postal bus is highly recommended. There are nine parking lots along this route, as well as numerous bus stops providing access to the parks many trails. The road gets busy, and is rather narrow, so pedestrian use is discouraged.
Where to stay in Swiss National Park
A variety of accommodation options are available within/near to the Swiss National Park. If you are hoping to stay within the park itself, you can stay in the famed Chamanna Cluozza (mountain hut) or the Hotel Parc Naziunal Il Fuorn. The Chamanna Cluozza is a log cabin built at an altitude of 6175ft (1882m) in 1910. It provides rather basic accommodation, with toilets and washrooms, but no showers, and typically remains open from June until mid-October. The Hotel Parc Naziunal Il Fuorn is the only hotel within the park, and provides a few more creature comforts. Alternatively, the nearby Zernez serves as a gateway to the national park, and along with the parks official visitor centre, has a variety of hotels for guests to choose from.