Part of Banff National Park in Alberta, Lake Louise is one of the worlds most photographed glacial lakes. With its turquoise blue waters and surrounding snow-capped peaks, it's unsurprising to see why. The magnificent turquoise colour of the water is a result of the light filtering effect of rock flour in the glacial runoff, though you need to visit between late July and August to see the water at its brightest. Interestingly, despite being a relatively small lake, at only 2km (1.2mi) long and less than 500m (0.3mi) wide, you may be surprised to hear that Lake Louise reaches depths of up to 70m (230ft).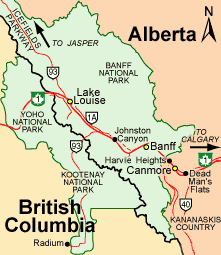 If you stand in front of the Chateau Lake Louise and face outwards towards the lake, you will be greeted with a fabulous view of the commanding Mount Victoria (3464m/11,365ft) and Victoria Glacier. On your left is Fairview Mountain (2744m/9001ft), with The Beehive Hems on your right. A path surrounds the edge of the lake, so you can stroll around at whatever pace suits you. How busy it is will depend on the time of day you are visiting, along with the time of year.
Things to do at Lake Louise
There are plenty of things to see and do near Lake Louise. Many visitors choose to simply bask in the magnificence of the lake, but to make the most of your trip, consider the following activities.
Lake Louise Visitor Centre
The official Parks Canada visitor centre at Lake Louise features a number of interesting educational exhibits, as well as a theatre program on the geological history of the Rocky Mountains. Here, you can also purchase any park permits / licenses necessary, receive up to date weather reports and obtain advice on activities within the park.
Summer at Lake Louise
During the summer, both canoeing and kayaking at Lake Louise are extremely popular activities. If you have your own canoe/kayak, there are no fees attached. If you need to rent one, you are able to do so at the lakeside for a moderate fee. Fishing is another popular activity, as Lake Louise is good for fishing lake trout, though you will require a National Park fishing license.
Hiking opportunities abound in the Lake Louise area. There are many planned hikes and guides available, or hiking trips can be self-guided. Common excursions include Fairview Mountain, Lake Agnes, Devils Thumb, Saddleback Pass, and Mount Niblock. Some trails allow mountain biking and horse riding, whilst the surrounding mountains offer great rock climbing opportunities.

Winter at Lake Louise
During winter, the area becomes a popular skiing destination. The nearby Lake Louise Ski Resort offers 139 different runs, the longest of which is 8km (5mi), and is home to Canada's most popular alpine ski race; the Lake Louise Winterstart World Cup.
In addition, Chateau Lake Louise offers ice-skating on the lake and horse drawn sleigh rides. If you'd rather a more relaxed trip, you could visit during the Ice Magic festival. The festival, which began in 1984, hosts an international ice carving competition, which never fails to impress.
Nearby Lakes
Moraine Lake is a short drive (14km/8.7km) from Lake Louise. The water here is the clearest, brightest blue you can imagine, and provides an astonishing reflection of the mountains beyond. If you are visiting Lake Louise, it would be sacrilege to disregard a trip to Moraine Lake.
Bow Lake is another nearby lake that's well worth a visit. One of the largest lakes in Banff National Park, it's a fantastic place to come for a picnic and a short walk. It is particularly beautiful at sunrise.
Interesting facts about Lake Louise
Lake Louise was originally named Emerald Lake, by Tom Wilson, a Canadian Pacific railroad employee, though it was renamed just two years later.
The name Lake Louise is derived from Princess Louise Caroline Alberta (1848–1939), who was the 4th daughter of Queen Victoria.
Lake Louise is the highest permanent settlement across the whole of Canada.
Lake Louise is the second largest skiing resort in Canada, and one of the biggest in North America.

How to get to Lake Louise
Lake Louise is situated 56km (36mi) west of Banff, and 180km (120mi) west of Calgary. The nearest airport is Calgary International, where you can rent a car, or take an airport shuttle direct to either Banff or Lake Louise.

Where to stay at Lake Louise
If you would like to stay near Lake Louise, your only option is to stay at the luxurious Chateau Lake Louise. The hotel offers unrivalled views of Lake Louise, but requires a hefty budget. If you're willing to go further afield, the town of Banff offers a number of alternatives to cater for a variety of budgets.