Bora Bora is situated approximately 140 miles (225km) northwest of Tahiti, in the western Leeward group of the Society islands of French Polynesia. It is a rugged, volcanic, mountainous island featuring a large lagoon surrounded by beautiful coral reefs and islets. In the Tahitian language, the pronunciation is closer to Pora Pora, and is commonly translated to mean "first born".
History of Bora Bora
Bora Bora was first occupied by Polynesian traders and colonists in the fourth century. In 1722, Dutch explorer Jakob Roggeveen made the first European sighting, but a European would not land on the island until James Cook in 1770. Bora Bora remained an independent kingdom until annexed by the French in 1888.
During World War Two, the island served as a military supply base for the United States. During "Operation Bobcat", military construction on the island included an airstrip, oil depot, and naval fortifications. After the war, the small airfield would remain the only international airport in all of French Polynesia until 1960.
In 2004, all of the French Polynesia islands were granted limited autonomy and citizenship, but would remain under French administration and legal jurisdiction.
The permanent population of Bora Bora is quite small, with less than 9000 residents as of 2008. The majority of residents live in Vaitape, found on the western edge of the main island. Tupai, the largest atoll, has a number of coconut plantation workers, but no permanent population. While French is the official language, Tahitian is commonly spoken.
Topography
The island of Bora Bora with its spectacular lagoon and beautiful coral reefs is just 11.8 square miles (29 sq. km) in size. Volcanic in origin, the island is mountainous and jagged, with bare black rock on the higher points. Centered in the island are the remains of an extinct volcano, split into two distinct black stone peaks, Mount Pahia and Mount Otemanu. Pahia is the shorter of the pair, at 2,165 feet (660m), while Otemanu tops out at 2,379 feet (725m).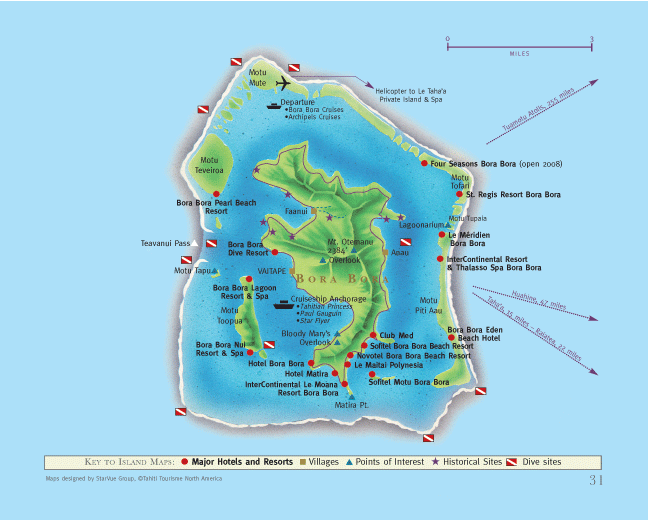 Flora and Fauna
Despite its volcanic origins, there is an abundance of tropical trees, plants and flowers. Common varieties include coconut palms, orange trees, and vanilla plants. The popular noni, a tropical evergreen known for its edible fruit, is abundant.
There are no native mammals on Bora Bora due to its volcanic past. However, due to human activity, there are several non-native species on the island. Cows, horses, and sheep are common, as are dogs and cats.
In contrast, there are numerous species of birds found on the island. Black-winged Petrels, Pacific Swallow, and the White Tern are regularly seen. Many other species that are frequently encountered throughout French Polynesia will also be recognized on Bora Bora.
Marine life abounds around in the waters of Bora Bora. Numerous fish species are encountered, including red snapper, jackfish, and lemon sharks. Sea turtles, dolphins, and migrating humpback whales are frequently spotted. Due to the ample marine plankton around Bora Bora, the island is world-famous for the abundant population of ray species, including leopard, eagle and the huge Manta Ray.
When to visit Bora Bora
The Polynesian summer months, November to April, are often hot and humid. The average temperature during the summer reaches 85 degrees, and the average rainfall is over 10 inches a month. Winter in Bora Bora is slightly cooler, but much drier, with less than 4 inches of monthly precipitation.
How to get to Bora Bora
Getting to Bora Bora is relatively easy due to its popularity as a tourist destination. You must firstly fly into Tahiti's Faa'a International Airport; the only international airport in French Polynesia.
Bora Bora is about 140 miles (225km) northwest of Tahiti. You can fly into Bora Bora airport from Papeete. The airport is situated on Motu Mete; a northern islet of the main island of Bora Bora. From the airport, it is necessary to travel by boat in order to get to the main island or resorts on smaller surrounding islands.