Lake Bled in north-western Slovenia could easily be described as being "Picture Postcard Perfect" with its warm blue waters reflecting the craggy Julian Alps and its tiny island on which stands a church that could have featured in any fairytale. It is by no means a large lake measuring a mere 2,120 m by 1,380 m and a leisurely stroll completely around the lake can be completed in about 90 minutes. It has long been a favourite Slovenian tourist attraction but has remained completely unspoilt.
The Origins of Lake Bled
This mountainous area is part of a limestone "karst" formation and, as such, features extensive fissures, deep valleys and steep rock faces. Caves and underground aquifers are also typically observed. The site of Lake Bled, however, was once the location of the Bohinj Glacier during the ice-age. When the ice melted the lake was formed. The lake is unusual in that it is not fed by any river or stream but rather by water emerging from springs. Some of these springs in the north-eastern part of the lake are geo-thermally heated resulting in the water in the lake being pleasantly warm and suitable for swimming.
Bled Castle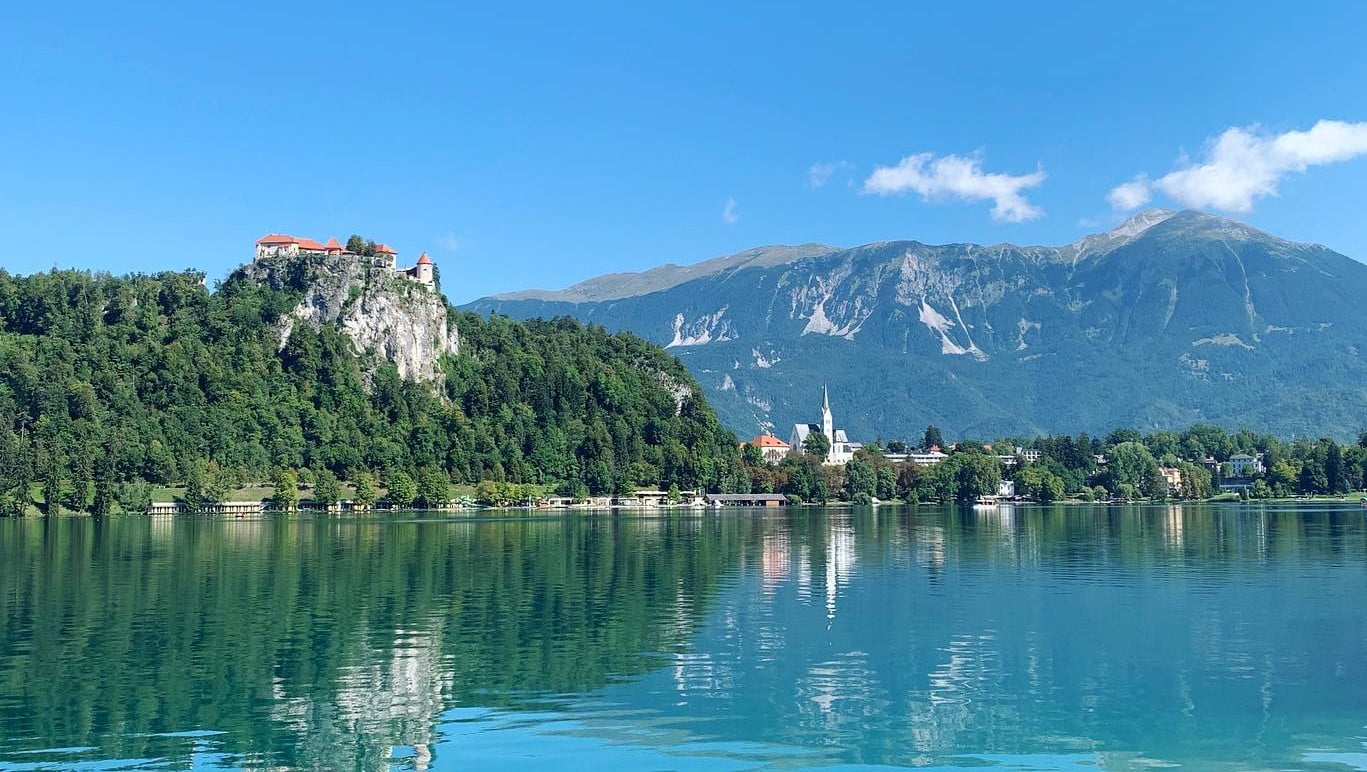 Towering over the lake, built on a high rocky prominence, is the 12th century Bled Castle. This was doubtless once an impenetrable fortress but now welcomes visitors and offers the most amazing views over the lake. In addition to its wonderful architecture, the castle also houses a museum, printing works, wine cellar, blacksmith's shop and a restaurant. In summer it is possible to watch traditional sporting events such as archery competitions.
Lake Bled Island
One of the most photographed features of Lake Bled is the tiny wooded island of Blejski Otok. This has the distinction of being the only island in Slovenia. It has several buildings the most notable of which is the church along with its separate bell-tower. The island is a very popular tourist destination and access is obtained by travelling in a traditional wooden boat known as a pletna. The pletnas are operated gondola-style by operators called pletnars.
Lake Bled Church
The pretty baroque church on the island has long been a place of pilgrimage. The present building dates from the 17th century but there is evidence that an earlier church existed on this site since the 12th century. The church is known as the Church of the Assumption of Mary or simply the Chapel of St Maria. After landing on the island, visitors then have to climb 99 steps to reach the church. There are many myths and legends associated with this location including one that says that if a man carries his bride up the steps to their wedding, a happy marriage will follow. Another belief is that by ringing the church bell three times, a wish will come true. The bell itself is also said to have been given by the Pope after the original bell was lost at the bottom of the la,ke. At the church there is a café and terrace where visitors may enjoy resting after climbing the steps!
Lake Bled in Winter
Despite its thermal springs, Lake Bled is usually frozen for a period during winter and it is a popular area for winter sports such as skating. Many people feel that this beautiful landscape is even more impressive when wearing its white winter suit making a wintertime visit an appealing option.
Things To Do at Lake Bled
There are plenty of things to do at Lake Bled with great facilities for tennis and golf or, for the more adventurous, climbing, caving or ballooning. Riding is popular and that can be on a bicycle, motorbike or horse! Boating is another popular activity such as sailing, kayaking or the more traditional rowing. The less active may prefer to try kremsnita. This is a famous Bled cream cake made to an original recipe. To date over 12 million portions have been sold which must say something.
Lake Bled Hotels and Accommodation
Accommodation of all types is available but pre-booking is strongly advised. Top luxury hotels include the Rikli Balance Hotel, Golf Hotel and the Hotel Park. Each of these offers heated pools using thermal spring water. There are many other good hotels and even a campsite. Some popular tourist resorts are spoilt by overexploitation and a delicate balance is necessary between attracting visitors and becoming overcrowded. In Bled a simple system is employed whereby the number of beds available for visitors may not exceed the number of local residents so it is always necessary to check beforehand to ensure that accommodation is available for the chosen dates.
Lake Bled Weather
Lake Bled enjoys a sub-alpine climate enjoying warm summers and cool to cold winters. The lake is warm enough to swim in during summer and cold enough to skate on in winter. Winds tend to be light and there can be precipitation at any time of the year.
How to Get To Lake Bled
Slovenia has a very good transport network and access to Lake Bled is fairly simple both from inside Slovenia and from neighbouring countries. Bled is around 50 km from Ljubljana and travel by car is straightforward. There are also good bus services. Those choosing rail transport, you have the option of arriving at Lesce-Bled station which is 4 km from the centre of Bled or Bled Jezero station which is just 1.5 km away. The final part of the journey can be completed on foot or bus. The Main Bled bus station is located on the north-east shore just a three minute walk from the lake.`
For many years Lake Bled was regarded as a health spa due to its fresh mountain air and healing spring water. Whether or not the mineral springs actually provide any health benefits may be debatable but any visit to Lake Bled will certainly invoke a substantial feel-good factor.