Ecuador is a picturesque country in northwestern South America bordered by Colombia, Peru and the Pacific Ocean. Originally home to various Indigenous Indian tribes, Ecuador was conquered by the great Inca empire in 1463. The Incas remained in power until the early 16th century, when the Spanish arrived and easily overpowered the Incas. The Spanish ruled until independence was finally obtained in 1830, after a long, bloody struggle for freedom. The country can be divided into four main geographical regions; the Costa (coast), Sierra (mountains), and Oriente (east) and the Galápagos Islands. Below you can see an Ecuador Map showing it's location in South America.
Capital city: Quito Highest Point: Chimborazo (20,561ft / 6267m) Lowest Point: Pacific Ocean (0ft / 0m) Land Area: 106,889 sq. mi (276,841 sq. km) Water Area: 2595 sq. mi (6720 sq. km) Total Area: 109,484 sq. mi (283,561 sq. km) Coastline: 1390 miles (2237 km) Bordering countries (2) Colombia, Peru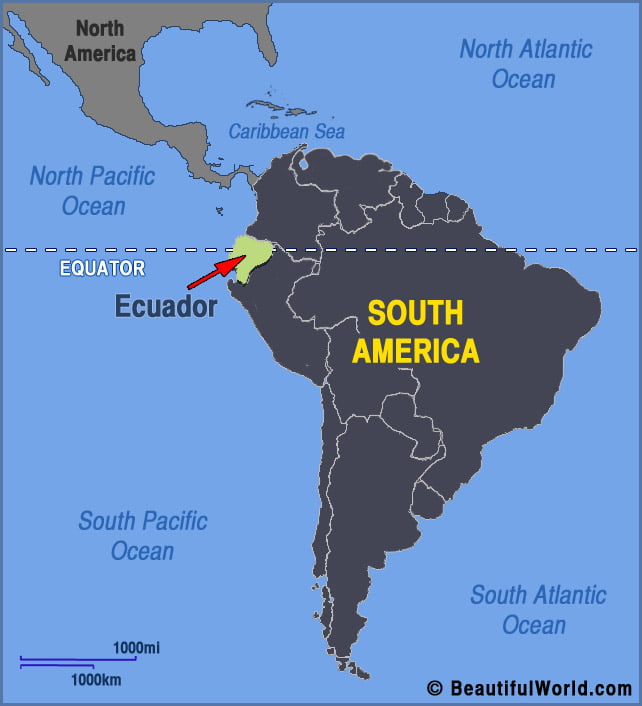 The Galapagos National Park was established in 1959 and is Ecuador's oldest park. It covers a massive 3087 square miles - 97% of the...