Established in 1885, Banff is Canada's oldest national park. It is located amid the Canadian Rockies, in the Province of Alberta, to the West of Calgary. Covering 2,564 square miles (6641 km sq.), Banff is famed for its dramatic beauty: rippling tarns, alpine meadows and snow-capped mountains are home to a plethora of plant and animal life. The area is paradise for outdoor enthusiasts, with hiking, horseback riding, mountain climbing, ice diving and sightseeing opportunities abound. Visit and you will discover one of the most pristine, picture perfect destinations in world. Four million visitors a year can't be wrong.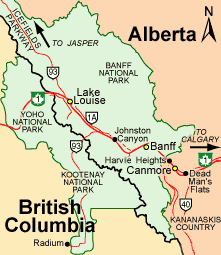 History of Banff National Park
In 1883, three railway workers, Thomas McCardell, William McCardell and Frank McCabe discovered a number of hot springs (now known as cave and basin) at the base of what is now called Sulphur Mountain.
In 1885, a federal reserve of 26 sq. km. was declared around the hot springs. 2 years later, this area was increased to 673 sq. km. and was named the 'Rocky Mountains Park'. This move was the start of Banff's long journey to becoming a hotspot for International tourism.
The Town of Banff was named in 1886, after 'Banffshire', the Scottish region from which two Canadian Pacific Railway (CPR) directors were born. CPR was quick to realize the potential of the Canadian Rockies, and in 1888 opened the original, 250-room, log framed Banff Springs hotel. A series of other grand construction project along the main railway line followed, and the company started to advertise Banff as an international tourism stopover. As a result, the Canadian Rockies were quickly established as a popular destination with Victorian gentry, who visited to drink in the picturesque scenery and relax in the calm hot springs.

Much of the regions infrastructure was built by European immigrants were were imprisoned at internment camps in the region during the first and second world wars. The interned immigrants were set to work building roads and walls. In 1917, the Banff Winter Carnival attracted many tourists to the region. The centrepiece of this carnival was an enormous ice palace, built by a number of Austrian, Hungarian and German detainees. It was this carnival that marked the beginning of Banff's winter tourism industry.
In 1984, Banff was declared a UNESCO World Heritage Site.
Today, some visitors not only come to visit, but set down their roots in Banff. In fact, approximately 8000 people call Banff home as of 2014. If you visit and want to learn more about the history of the region, there are a number of museums you can visit, such as the Banff Park Museum, the Whyte Museum of the Canadian Rockies, Luxton Museum and the Cave and Basin National Historic Site.
Interesting facts about Banff National Park
Banff National Park boasts more than 932 miles (1,500 kilometres) of walking trails.
Mount Forbes is the highest mountain in the park, standing at an impressive 11,850 feet (3,612 meters).
Banff is the third oldest National Park in the world, behind Royal in Austria, and Yellowstone in the United States.
Many lakes can be found inside the park. The largest natural lake is known as Hector Lake.
More than 2,000 campgrounds are situated in Banff National Park.

Visiting Banff National Park
Visitors wishing to pause in Banff National Park require a permit to do so. Merely driving through the park does not necessitate the purchase of a permit, though even if you happen to stop for fuel, you will require a pass. Both daily and annual (discovery) passes are available to visitors, and can be purchased online, or in person upon entry to the park. Should you wish to camp, additional fees are levied.
Things to do in Banff National Park
At Banff National Park, there is something for everyone. In summer, you can go sightseeing, horseback riding, mountaineering, climbing, biking, canoeing, fishing, kayaking, or even play a round of golf. In winter, there are a plethora of snow sports at your disposal, including skiing, cross country skiing, snowmobiling, dogsledding, ice-skating, and tubing, as well as general sightseeing, or a trip to the hot springs.
Banff Township itself is located within the national park boundary, and offers all the usual amenities you would expect, as well as museums, galleries and historic sites for those seeking a more cultured visit. Several nature trail and hiking routes can be found near the town of Banff.
The reality is that there is so much to see in Banff National Park, that depending on the length of your trip, you may not have time to see it all. For your convenience, we have made a toplist of places that you should make the effort to see during your trip.
Banff
Cave and Basin National Historic Site – As mentioned above, the Cave and Basin hot springs are the birthplace of Banff National Park. Visitors can gain access to a subterranean chamber bubbling with thermal waters.
Lake Minnewanka – "The Lake of the Water Spirits", is extremely tranquil and picturesque – a perfect place to relax and have a picnic.
Upper Springs Hot Pool – One of Banff's most famous attractions, the natural hot springs have enticed visitors for over a century.
Vermilion Lakes – Experience the wetlands of Vermilion Lakes whilst absorbing the surrounding wildlife.
Johnson Lake – Bordered by dense pine forests, Johnson Lake is renowned among fishermen and kayakers alike. If your preference is to stay on dry land, then you can hike the 3km loop around the lake.
Banff Legacy Trail – Paved trails span 26km from the parks East Gate to Bow Valley Parkway, with picturesque rest stops and trail connections abound.
Lake Louise
Lake Louise – Lake Louise is not a hard sell. One of the worlds most photographed glacial lakes; its turquoise blue waters and surrounding snow-capped peaks have amazed visitors since the 1890's.
Lake Agnes Trail – The Lake Agnes Trail is one of the most hiked trails in the park, leading walkers past a wide silver lake, towards a quaint mountain teahouse.
Plain of Six Glaciers Trail – Take the 10km hike to Lake Louise, and experience glaciers, vaulting peaks, avalanche paths, wildlife and a mountain teahouse en route.
Moraine Lake – Not too far from Lake Louise, Moraine Lake is perhaps even more beautiful, with its bright turquoise waters providing strikingly beautiful photographic opportunities.
Bow Valley Parkway
Johnston Canyon – The trail to the waterfalls of Johnsons Canyon is one of the busiest in the park. Visit in the early morning or evening to avoid the biggest crowds, and enjoy the trails canyon-clinging catwalks and cliff-mountain staircases.
Icefields Parkway
Peyto Lake – Peyto Lake is a scenic area roughly 25 miles (42 kilometres) from the town of Lake Louise, and can be accessed by road or by foot. Having climbed a short distance, visitors look out over the lake and its lush surrounds. The view is thought to be among the finest in Canada.
Bow Lake – If you like your fishing, Bow Lake is easily accessible and features beautiful turquoise waters, in addition to excellent views of the majestic Bow Glacier.

How to get to Banff National Park
For domestic visitors, Banff National Park can be accessed by road, rail and bus. For those from further afield, the nearest International airport is in Calgary.
If you intend to drive to Banff, then Highway 1 (Trans-Canada) runs through the centre of the park and is well maintained and signposted. The Town of Banff is approximately a 90-minute drive from both Calgary to the East (79 mi/127 km), and Golden to the West (86 mi/139 km).
If you would prefer to travel via a bus service, then both Greyhound and Brewster buses ferry visitors to and from the park at regular intervals from Calgary and various points in British Columbia. Alternatively, a number of guided bus tours set out from both Vancouver and Calgary.
The last option is to explore the Canadian Rockies by rail, with trains connecting from Banff to Vancouver and vice versa on a daily basis.
When to visit Banff National Park
If you are planning a trip to Banff, then you'll likely want to know when the best time to visit is. Banff is a year-round tourist destination, so this will ultimately depend on your own personal preferences and priorities.
The first question you need to ask yourself is whether you would prefer to hike or ski? Banff's hiking trails are open to the public between May and October, whilst the ski season runs from mid-November until the end of May.
If the purpose of your visit is to explore the hiking trails of the Canadian Rockies, visit between June and September, when the weather is warm and dry, and the days are longer. To avoid the largest crowds and the school holidays, the months of June and September are recommended.
However, if you are seeking a skiing holiday, look no further, as Banff is often regarded as one of the top skiing destinations in the world. Throughout ski season, the park is busiest during holidays such as between Christmas and New Year, Family Day weekend, March Break and Easter. To avoid the hustle and bustle, steer clear of these dates. It's important to note that during winter, avalanches may result in both road and rail closures, and so driving is not recommended if you are not used to Canadian winter driving conditions.

Where to stay in Banff National Park
Banff has the ability to cater for a vast range of budgets and tastes. Whether you are looking to camp, or prefer a high calibre hotel, Banff has it all. Home to many hotels and lodges, you are sure to find something suitable for your taste/budget. If the purpose of your trip is to get closer to nature, you may prefer to camp in one of the many campgrounds scattered throughout the park. Banff National Park uses the Parks Canada Campground Reservations Service, making it easy to book a pitch far in advance. Note that should you wish to wild camp, you will be required to obtain a special backcountry camping permit. Ignoring this requirement is regarded as a criminal offence.