Castle Mountain was named as such due to its castle-like/fortress appearance. Situated in Banff National Park in the Canadian Rockies, with a peak of 9075ft (2766m), the mountain is widely photographed and a favorite of local artists. In addition to the peak, the massif contains multiple high points such as Stuart Knob (9350ft/2850m) and Helena Ridge (9390ft/2862m).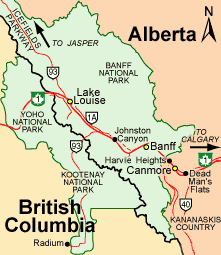 Interesting facts about Castle Mountain
The first ascent of Castle Mountain was completed in 1884 by Arthur P. Coleman, a Canadian geologist and academic.
Castle Mountain was first named as such in 1858 by James Hector, on account of its castle-like appearance. It retained this name until 1946, when it was renamed Mount Eisenhower by Prime Minister Mackenzie-King, in advance of the President paying a visit to Ottawa. Despite the respect Canadians had for Eisenhower, this arbitrary decision irritated the government, leading to the immediate formation of a geographical naming board. It was not until 1979 when Castle Mountain regained it's original name due to public pressure, though a prominent pinnacle on the south-eastern side of the mountain was named Eisenhower Tower in compromise.
Despite looking steep and intimidating from the road, Castle Mountain is a relatively easy ascent from the back side, making it a popular hike for visitors.
Geologists often use Castle Mountain as a typical example of a Middle Cambrian sandwich. The "sandwich" is comprised of two cliffs, with a ledge in between them. The upper cliff is Eldon limestone, the lower cliff is Cathedral dolomite and the ledge is Stephen shale.
Where to stay near Castle Mountain
If you prefer to camp, Castle Mountain campground is nearby and offers basic facilities. Alternatively, Castle Mountain chalets offer a more comfortable/luxurious setting to lay your head for the night, though are notably more expensive.
How to get to Castle Mountain
Castle Mountain is situated between Banff and Lake Louise on the Trans-Canada Highway, at the junction of Highway 1 and Highway 93.